Requirements
In order to use the softphone, you will need:
A microphone (we recommend a headset with a boom microphone)
A strong internet connection
Opening the Softphone: Video 42:00 – 48:00 min.
Using the Softphone: Video 7:55 – 20:30 then 28:30 – 36:00 min.
Opening the Softphone
The softphone is opened from the Call Log page (Calls → Call Log).



1. Click Desk Mode to open the desk mode view.
2. Click Phone to open the pop-out phone window.
3. Click the phone icon, then Open Phone to open the pop-out window from any page in the application.
Features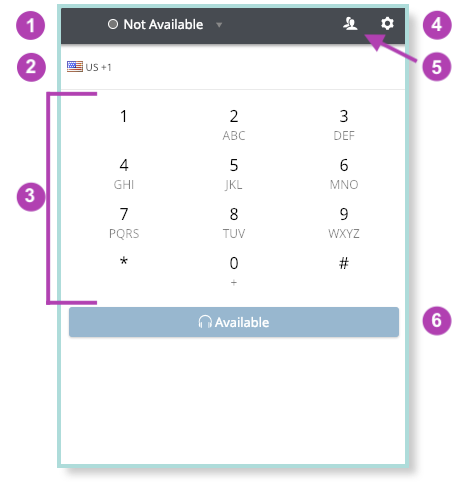 1. Agent Status: shows your user icon and current status (Available, Not Available, Outbound Call, Inbound Call or custom status).
2. Number to Dial: shows the number that will be dialed. Type or paste a number here to place an outbound call.
3. Dial Pad: tap or click to place an outbound call.
4. Softphone Settings: click here to open the softphone settings menu.
5. Contacts: click here to view and search recent contacts.
6. Toggle Availability: click to become available or not available for calls.
Answering a Call
A ringing tone will play when an incoming call is being routed to you. You may also see a desktop notification.

1. Ignore: dismisses the current call. The call will stop ringing for you, but will continue to ring for other agents (if applicable).
2. Answer: answers the call.
Softphone During a Live Call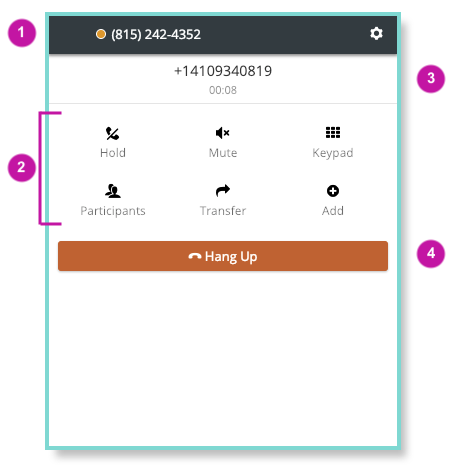 1. Agent Status: indicates agent, status, and tracking number the call is being placed from.
2. Call Controls:
Hold: places the caller on hold.
Mute: mutes your microphone.
Keypad: returns to the dial pad view of the phone.
Participants: click to view all agents and customers on the call. Call moderators can mute or dismiss other participants.
Transfer: transfer the call to another agent, another phone number, a queue of agents, or a menu.
Add: add another agent or another phone number to the call. You may also choose to place the caller on hold before adding.
3. Dialed Number and Call Duration: shows the number of the person you are calling (for an outbound call) or the person calling you (for an inbound call).
4. Hang Up: ends the current call.