Call recordings are available on all Targeting Local CRM accounts for no additional fee. If call recording is enabled for a tracking number in your account, calls to that number will be recorded and can be retrieved from the call log or shared through notifications.
Call recordings are stored for the life of your account. Targeting Local CRM may, after 60 days post account cancellation, delete these recordings.
Enabling and Disabling Recordings
By default, your account's call settings configuration will have inbound call recording enabled. To make changes—such as enabling outbound recording or encrypted recordings—you will need to edit the call settings configuration your tracking numbers are assigned to.
Navigate to Numbers → Call Settings and click edit next to the call settings configuration you wish to change.

If you have multiple call settings configurations, remember that only the numbers assigned to the configuration you selected will be affected by these changes. You may need to update multiple settings or create new ones depending on your recording preferences for each number.

Use the left hand navigation or scroll down to the Call Recordings section.
The current recording settings are shown here. Use the toggles to enable or disable the following options:

Record inbound calls will create recordings for all inbound calls that are answered (by a person or by an automated system).
Record outbound calls will create recordings for outbound calls made using the softphone.
Encrypted call recording will add encryption to your call recordings for an additional fee per minute.
Dual channel recordings will record each end of the call independently for an additional fee per minute.
Record from ringing will begin recording calls from the moment they begin to ring. With this enabled, you will hear the phone ringing on your call recordings, and will have audio files for calls even if there is no talk time (meaning no one answered). It is recommended you do not use this feature if you have transcriptions enabled.

Click Save Changes.

Listening to Recordings: Video 08:50 – 13:20 Min.
Listening to Recordings

The most direct way to listen to recordings of your calls is through the call log. Every call that has a recording will have a headphones icon that you can click on to play the recording.
When playback begins, you will see a "pop out" option that opens the call recording playback in a pop-out window. You can also click "edit" on the left side of the call log, then click the "Voice Analysis" tab to open the player in the call detail panel.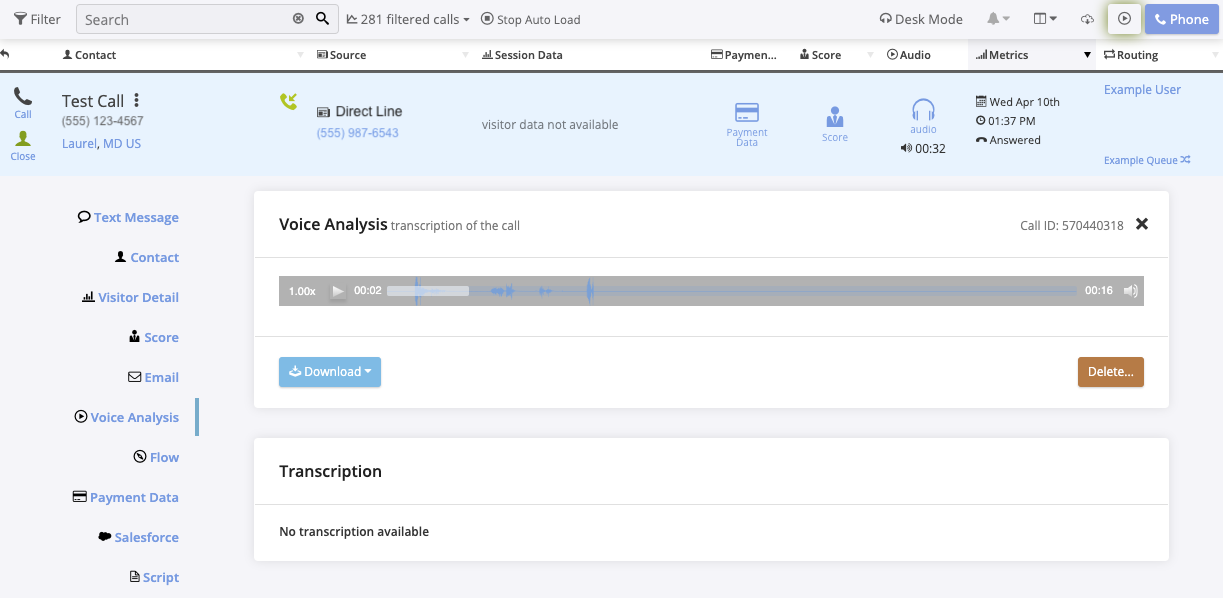 When playing recordings in the pop-out window or the call detail panel, you can control the playback speed of the recording, download the audio file, or delete the recording (admin only).

The information you see in the Voice Analysis section will change depending which options you have enabled in your call settings. In the example below, the following options have been enabled:
Dual channel recordings shows the agent's speech in pink and the caller's speech in blue.
Transcriptions shows the full transcription of the call in this panel, but also shows the applicable section of text right below the audio player.
Keyword spotting shows a list of all the spotted keywords found in this call.

Sharing Recordings
Recordings can be included in notifications or call log exports. When recordings are shared this way, a link to the audio file is included (rather than the file itself).
By default, anyone who clicks on the playback link will be able to listen to the call recording, and the links do not expire. You can change these settings in your account settings or agency settings, if needed.
For more information, see Recordings and Account Security below.
Downloading Recordings
Call recordings can be downloaded as WAV or MP3 files. To download a recording:
Navigate to Calls → Call Log and locate the call you wish to download.
Click the Edit button on the left side of the call.
In the call detail panel that opens, select the Voice Analysis tab.
Click the Download button and select your preferred file type. You will be linked to the audio file in your web browser.

Click the three dots in the file player and click Download to save the file.

Advanced Recording Options
To protect the privacy of your agents and customers, you may wish to record only parts of a call or to control whether a call is recorded based on the keypress options the caller chooses in a menu.
Deleting Recordings
Call recordings can be deleted on a one-by-one basis or in bulk, if needed. Once call recordings have been deleted, they are deleted forever. Deleted call recordings can never be recovered.
Troubleshooting
Even with call recording enabled in your account, you may see several calls with no associated audio files. This is often expected, depending on your settings, but can also indicate a problem with your call settings configuration.
Recordings and Account Security
Your account has a number of options available concerning the privacy and security of call recordings. Using these settings, you have the option to control who has access to recordings in your account, restricting access to only users who really need to listen to calls. You can also require an account password to listen to recordings from your account, and you can set audio file links to expire after a certain number of days.